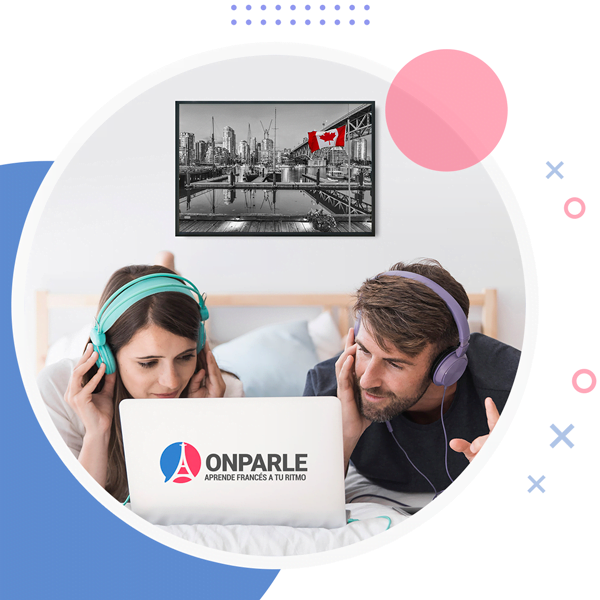 Do you need to acquire the B2 level to be able to immigrate to Canada as a family?
---
ONLINE FRENCH AND ENGLISH COURSES IN COUPLE TO EMIGRATE TO CANADA
Learn French up to 3 times faster than traditional courses and get the main key to immigrate to Canada.
24-HOUR CLASSES

JOIN A GROWING COMMUNITY OF STUDENTS AROUND THE WORLD!

At Onparle, we accompany individuals and families who wish to start a new life in Canada through intensive French and English courses for couples with real-time classes with certified teachers through a virtual classroom enriched with digital support content.
Innovative pedagogical model focused on communication with which we achieve language learning up to 3 times faster than in traditional classes.
You choose the day, time and weekly intensity of your classes according to your availability.
We will assign you a certified teacher so that you can start learning French or English at your own pace. You can also review the recording of your class and have access to digital support content at no additional cost.
OUR FRENCH AND ENGLISH COURSES
Excellent school for preparation for the international French exam. They deliver what they promise. They guarantee to get a good score in each of the competencies of the test. Highly recommended.
From the first day I started classes with Onparle to present TCF and obtain a B2 level, I loved the personalized methodology, the deepened topics and the comfort of being able to take the classes from my home. My knowledge of French has progressed vertiginously and thanks to Onparle I already have my TCF B2 level certificate.
They have flexible schedules. With teachers of different accents. They have excellent technical support. In a short time I achieved a good level of French with which I got the b2 certificate. I recommend them
Very good service and attention. The classes are very good and dynamic ! so far I have liked it very much.
DIGITAL SUPPORT RESOURCES